Discover more from From Prathyush
I'm a writer based out of Mumbai, India. I write weekly essays on culture, literature, fine art, cinema, and photography, rooted in rigorous politics and philosophy.
On Expressionists And Sadak 2
The failure of a movie, that of Sadak 2, has never felt more representative of a failure of a movement, that of expressionism.
Last week I started writing with my wrong hand- my right hand- to see if I still had it. (I became an ambidextrous when I broke my left hand, but after that hand healed, slowly stopped writing with my right hand, for it felt dirty, like I was cheating on the hand that now works perfectly well.) I was trying to take notes, listening to Louise Erdrich's short story The Years Of My Birth, which if you have time (1 hour, half-hour in 2x speed) you should listen to, on the New Yorker fiction podcast, about a deformed white adopted kid in a Native American household, who spends her entire life attempting to avoid despair. The story isn't about one particular feeling, just a general sense of numbness. There is also a great moral question underlying the whole text, almost as if the whole story was an excuse to ask that question: if you commit an immoral act without knowing it, are you an immoral person? (If you listen to the story, stay on and listen to the New Yorker fiction editor Deborah Treisman talk about how Erdrich made the moral question more difficult when she made this short story longer, later, as a part of her novel.) Writer David Gilbert said something about the best stories being those that work entirely on the realm of metaphor, but are also entirely real, so the reader can choose the plane they want to enjoy it in.
What struck me most about that story was how we, today, crave this sense of non-specificity in emotions. We don't like emotions being captioned, we don't like reading the pretentious labels accompanying abstract paintings in art galleries, we don't like boxed in, interpreted expressions. Hans Hoffman, the painter and educator of a new crop of painters in Provincetown, had once said, "A picture should be made with feeling, not knowing". Perhaps something similar could be said about viewing that painted picture, or the written word, or the captured film. I have stressed this point in a previous piece, but here I want to talk about the implication of this.
When I was listening to one of Murakami's stories on the same podcast last month, I realized that midway I had nodded off, sleeping on the cool floor, yet tangentially aware of the story. As it ended I did not want to re-listen, I had grasped the bare bones. Treisman when discussing that story said something about how in Murakami's novels you always get a sense of something happening, but you are never able to put your finger on it. Even in his most "commercial" works like Norwegian Wood you are always left not knowing who these characters are, and why they act and say the things they do. Part of enjoying Murakami is thus suspending the Whys, and just immersing in the Whats. (In Kafka On The Shore, leeches and fish just rain on people, cats just talk, people are just named Colonel Sanders or Johnie Walker, it's wild and enjoyable once you succumb, it's only a matter of if you can succumb. It's no surprise that when Murakami set up his website where readers could ask questions, he received 8000 questions.)
This might be a stretch, but the fact that the past few years have seen a proliferation of Murakami in India (literally, every roadside bookseller I have visited in Mumbai, from the one on the footbridge above Mulund station, to the cheek-by-jowl ones near Flora Fountain, everyone has The Secret, Ikigai, some Mark Manson, some Chetan Bhagat, and some Murakami) might say something about the tastes of a chunk of India, for not wanting emotions to be spoon-fed, and for it to just wash over. It's why films like The Lunchbox becomes part of the wider popular culture conversation. It's insanely felt!
(I really hope this isn't too much of a stretch because I just sent a 6000+ word book proposal to look at classical dance in modern India keeping this framework in mind - to explain why classical dance is just tedious to watch as a narrative form of storytelling, and to perhaps see it from a political point of view might be more interesting.)
Now, all of this is to say that the 80s and 90s version of good Hindi cinema, where sadness is articulated, and expressed, and not necessarily crafted as an emotion for the audience to feel (as opposed to, for the audience to know) just doesn't work. Sadak 2 just didn't work. Here you have a character, Aarya played by Alia Bhatt, who gives a bullet point FAQ about her past (innocent father, cancer afflicted mother, opportunist and wily step mother, under the influence of a guru, a boyfriend who was framed), you register facts, and her feelings about these facts, but these feelings never leak out of the screen, and are rarely, if ever, felt by the viewer
I am reminded of that moment in The Reader when Kate Winslet weeps while listening to her young lover read The Odyssey to her, a text with a lot of Whats. This is perhaps one of the first stories she is being read, and it's full of these characters feeling things and articulating it, and perhaps that's why it's so easy to feel what they feel. This is one of the first times she is encountering fictional humans! Even in A Suitable Boy set in 1951, the awful, patriarchal, and violent Dr Kishen Chand Seth, is turned to a weepy pulp watching the Dileep Kumar film Deedar, a film which I can't watch today because it's so over-articulated. I wonder when people say "we don't make movies like the 80s anymore", are they just talking about quality, and technology, our limited attention span, or is it also how one sees emotions today, as things that demand to be felt and not necessarily seen or spoken about.
The other extreme end of this is an art form that I have been strangely staring at this past month since I was introduced to it- Op Art (not to be confused with pop art), or optical illusion art. Viktor Vasarely, the grandfather of op-art has some stunningly hypnotic images Here, the entire focus is on the audience, trying to make them feel something- dizzy, drunk, dazed! It's not even about the artist feeling that necessarily while making it. Below is a work of his outside a Hungarian church.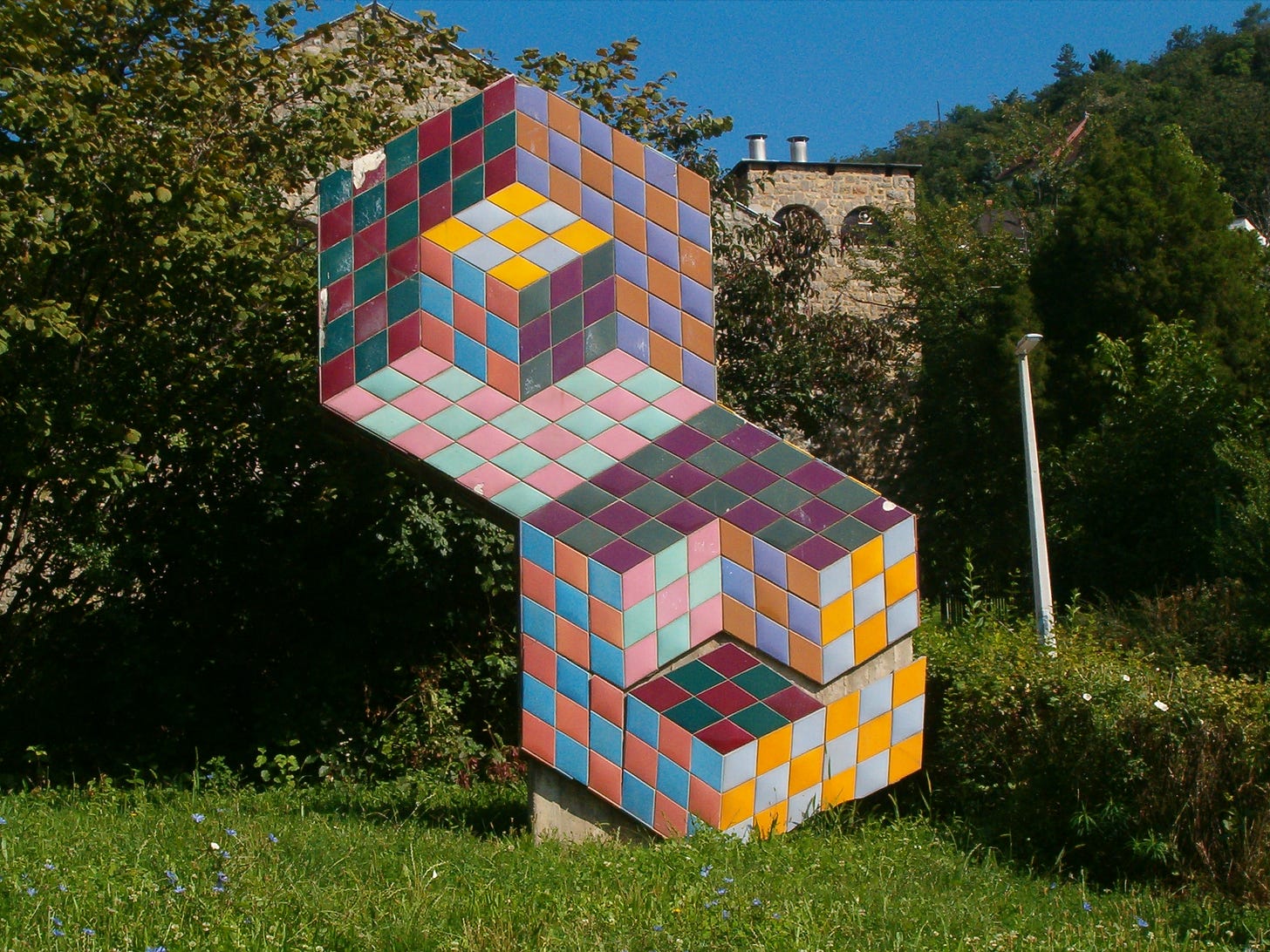 Sadak 2 and its predecessor Sadak (which I wrote about here) are both entrenched in this idea of expressionism, where the protagonists express, as opposed to naturalism, where protagonists just live as they do, and the impact, emotional or otherwise, is totally on the audience. (Of course this gets muddy, because so much of our behaviour is modeled on cinema, so some of the things we say, about love for example, are quotes from these awful 80s films, and so this naturalism is in some sense also… contaminated)
While I quite enjoyed the camp viciousness with owls and the gender-bender villain, and didn't mind so much the Vishesh film trademark of using mental health illness as a form of romance (which in some sense made Mahesh Bhatt who he is with his success with Arth, weaponizing his ex-girlfriend, the sex-kitten of the 70s, Parveen Babi's schizophrenia), the film never came together because it couldn't make me feel anything. In the end, a CGI Kailash, a mountain peak speaks to the lovers who have been transposed onto its foothills using greenscreen. I mean… how can I feel anything but humoured?
Of course the critics had their claws out to pounce, and I read something someone tweeted regarding a negative review for Masaba Masaba (which once you get through the awkward first episode is an absolute joy, zero emotional investment, chuckles, good clothes, and hot guys guaranteed) that made so much sense, "He gets his guns to a sword fight". Sadak 2 certainly wasn't the worst, it just was dated, which isn't a bad thing, it's just an unfortunate thing.
This is not to excuse the bad dialogues, and the tepid music, or the egregious climax. But it's just to show that perhaps under the very public condemnation of the film, there might be something else. I am not attempting to theorize Sadak 2- that would be a waste of time. I am just wondering, looking at trend of films I have loved over the years, if I too am not longer an enthusiastic card carrying member of the Expressionists. (Forgive me Bhansali!)
When I shared that Louise Erdrich story with a friend, she replied saying that name rang a bell, and it turns out she had a quote of hers saved. (It also turns out that for the book I am currently reading, The Zigzag Way by Anita Desai, Erdrich has given an endorsement quote- Baader-Meinhof phenomenon!) The quote sounded like something Bhatt would say, and he has said some variant of this in interviews. I just wish I felt what he felt when he said what he said. This is Erdrich.
Life will break you. Nobody can protect you from that, and living alone won't either, for solitude will also break you with its yearning. You have to love. You have to feel. It is the reason you are here, on earth. You are here to risk your heart. You are here to be swallowed up. And when it happens that you are broken, or betrayed, or left, or hurt, or death brushes near, let yourself sit by an apply tree and listen to the apples falling all around you in heaps wasting their sweetness. Tell yourself you tasted as many as you could.
To which I cheekily responded, "But Az, I hate apples."
If you like what you read, tell others. If you don't, tell me.