Discover more from From Prathyush
I'm a writer based out of Mumbai, India. I write weekly essays on culture, literature, fine art, cinema, and photography, rooted in rigorous politics and philosophy.
On Louise Glück And Reading Poetry
The Nobel Prize (for Literature) winner wrote a poem that I can only explain by not talking about what the poem means, but what it makes me feel.
Carl Phillips, the American writer, noted that poetry is not the transcription but the transformation of experience.
This makes poetry difficult to write, and thus read because most of us find it easier to describe what we are doing, as opposed to what we are feeling; feeling comes from that chaotic intersection of too much experience, too much memory, and too little foresight.
People who do not like reading poetry, like me on most impatient days, have this urge to control the meaning of what they read, but the job of poetry is not to stick to you, but flow through you. Read this short Tomas Tranströmer poem slowly, without stopping, and ask yourself what you got from it.
The answer can't possibly be concrete. It's just a fleeting thing.
I think it's the same with fine art and photography- one shouldn't demand meaning from it. Last week, for some reason, I spent about 20 minutes just staring at this 1960 photo taken by Rene Burri, titled São Paulo. I don't know why- if I was a teenager I would explain it as "wanderlust" or something silly, but I think it reminded me of growing up in Dubai, and the hot summers, the stark shadows, and the tall buildings on Sheikh Zayed Road where my father first used to work. I might be wrong, but who will know?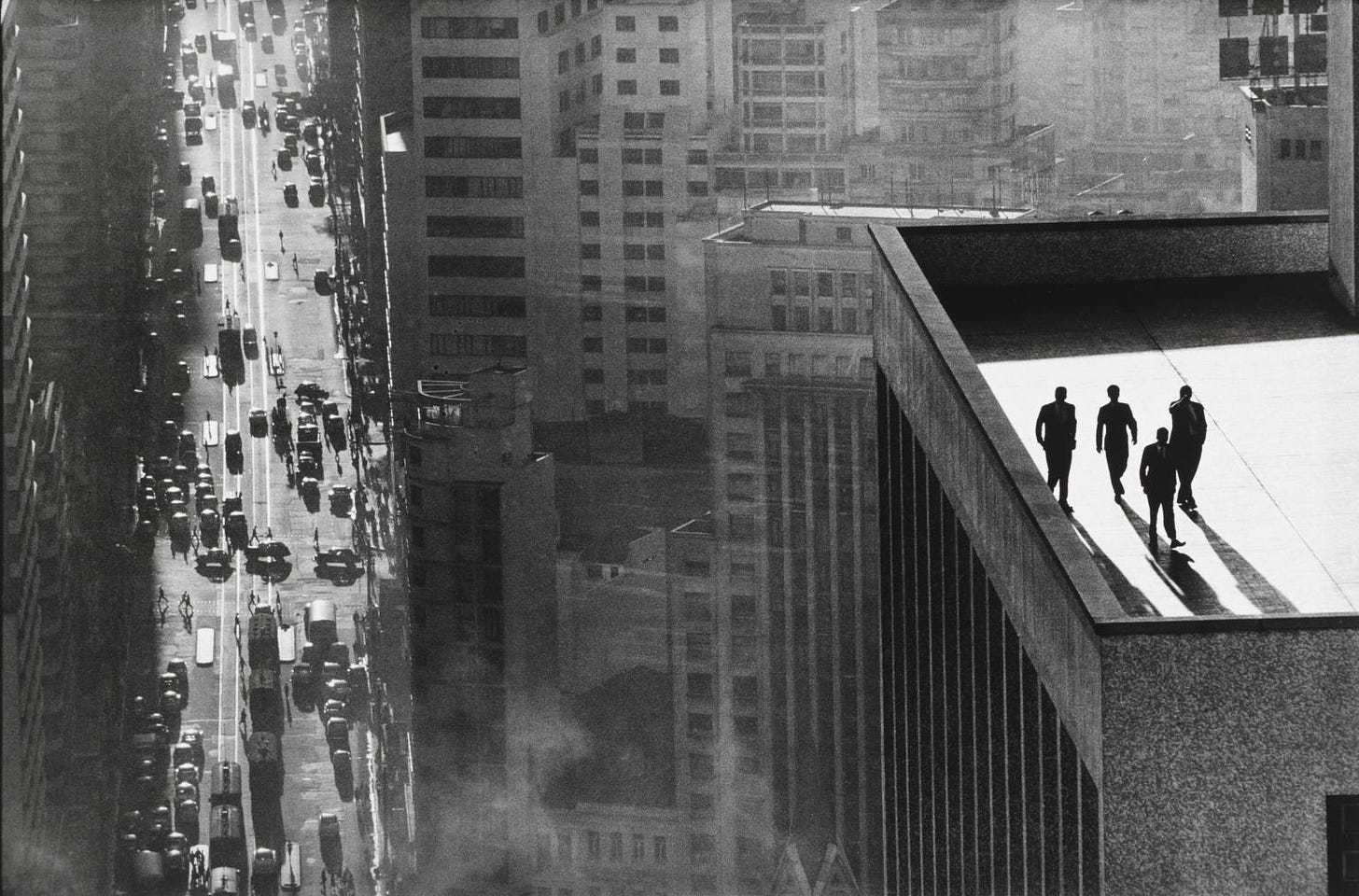 The Pulitzer Prize-winning poet Tracy K. Smith noted on Ezra Klein's podcast that "Poetry insists on a different logic… poetry's language sits close to feelings that defy language." I remember my favourite poems not by their words, but by how they made me feel, I rarely find poems quoteable. Sarojini Naidu's 'Palanquin Bearers', for me, is not the words, but that lilting feeling of actually sitting in a palanquin when reading it.
This is ironic because growing up we were meant to commit these poems to memory, a focus on words, rarely, if ever on feeling. But, for the life of me, today, I cannot remember how the poem started, only how I felt as it did.
I want to talk about a poem by Louise Glück and what it made me feel. The announcement of her winning the Nobel Prize For Literature was made today. This poem is titled 'A Warm Day', and the Paris Review sent this to me in April. (They send a poem a day to your inbox, it arrives in the evenings IST, and depending on how frazzled I feel the mails are opened-and-read, opened-and-unread, or unopened.)
Today the sun was shining
so my neighbor washed her nightdresses in the river—
she comes home with everything folded in a basket,
beaming, as though her life had just been
lengthened a decade. Cleanliness makes her happy—
it says you can begin again,
the old mistakes needn't hold you back.

A good neighbor—we leave each other
to our privacies. Just now
she's singing to herself, pinning the damp wash to the line.

Little by little, days like this
will seem normal. But winter was hard:
the nights coming early, the dawns dark
with a gray, persistent rain—months of that,
and then the snow, like silence coming from the sky,
obliterating the trees and gardens.

Today, all that's past us.
The birds are back, chattering over seeds.
All the snow's melted; the fruit trees are covered with downy new growth.
A few couples even walk in the meadow, promising whatever they promise.
We stand in the sun and the sun heals us.
It doesn't rush away. It hangs above us, unmoving,
like an actor pleased with his welcome.

My neighbor's quiet a moment,
staring at the mountain, listening to the birds.

So many garments, where did they come from?
And my neighbor's still out there,
fixing them to the line, as though the basket would never be empty—

It's still full, nothing is finished,
though the sun's beginning to move lower in the sky;
remember, it isn't summer yet, only the beginning of spring;
warmth hasn't taken hold yet, and the cold's returning—

She feels it, as though the last bit of linen had frozen in her hands.
She looks at her hands—how old they are. It's not the beginning, it's the end.
And the adults, they're all dead now.
Only the children are left, alone, growing old.
Now, if I want to talk about the poem, I think it would be an abomination if I go line-by-line and mine meaning. Instead, here are three things the poem reminded me of- very vividly.
1) A scene from the movie Pain And Glory, Pedro Almodóvar's ode to memory, specifically his memory of his mother, and the act of memorializing memory in movies. In the film, there is a movie being made by a director as a form of catharsis. In the climax you think you are seeing a flashback of the life of the director as a child, but then the camera walks back and you realize it's actually a shot of the movie the director is shooting about his own childhood. Cinema weaponizing nostalgia, and I was knifed in the heart- such a tender moment.
But the scene I actually want to talk about has Penelope Cruz, playing the director's mother in the flashback, washing clothes with her friends by the river, singing, and the director, as a child wading about in glee- the bright white light, and the bright white cloth. All the world was his mother. We see this as a reverie from the aged, disillusioned man he has become. Time massacred his smile.
2) Andre Lyon Talley , the former editor-at-large for Vogue, who spoke of the white linen his great-grandmother, in North Carolina-the heady center of the tobacco industry- used to wash, and that being his first idea of luxury. I remember listening to him talk about this in a documentary I watched years ago, but I can't find it, and so here is an excerpt from his autobiography, The Chiffon Trenches.
"When I was a child, my great-grandmother China (and my grandmother, when China became too frail), boiled our laundry in a big black iron cauldron in the yard. She would set up everything under our peach trees, for shade. She would build a good fire from wood she had chopped herself. Sheets and table linens always had to be allowed to simmer, and anything white (such as towels, nightgowns, or my Sunday shirts) would be left to boil the longest. The temperature in that cauldron was so high, my great-grandmother or grandmother had to use a rod as thick as a forearm, cut from the limb of a tree, to stir the laundry around the enormous pot. Once clean, the wash was transferred to huge zinc rinsing tubs that rested either on a wooden table or on the tree stump that was normally reserved for the death whack on the neck of a soon-to-be-eaten chicken. The sheets and other whites got a weekly dose of bluing agent, to prevent them from turning yellow, and my grandmother or great-grandmother would wring them out thoroughly by hand before hanging them to dry.

I can still see my grandmother, her apron full of clothespins, walking the length of our silvery clothesline (which stretched all the way from the porch to a tree far at the back of the property) with a rag in hand, wiping the natural dust and pollen off the line before she would entrust her laundry to it.

The wall of white sheets flapped in the wind like huge sails rigged by wooden clothespins. They stretched the entire length of our deep backyard. And I loved to run past and between the drying sheets, feeling their roughness on my outstretched hands and inhaling the fresh smell of cotton dried in the open air."
3) Cameron Mitchell's cover of John Mayer's "Stop This Train". When I wrote about re-watching Love Aaj Kal (2020) I noticed that the Veer, the tested and troubled male protagonist, wrote this lyric on a wall. He too was worried about time. I wish his worry in the film was better written. The song, and especially this cover always gutted me for a quick second. "So tired of getting older, I am only good at being young" was a lyric I held onto as a teenager. Now, it's just "stop this train", hoping that the station it halts at has my currently-deprived-of samosa pav, green chutney, red chutney, and the elusive kai-manam.
If you like what you read, tell others. If you don't, tell me.