Discover more from From Prathyush
I'm a writer based out of Mumbai, India. I write weekly essays on culture, literature, fine art, cinema, and photography, rooted in rigorous politics and philosophy.
On Memory And Eternal Sunshine Of The Spotless Mind
I enlist Aristotle, Van Gogh, Elif Shafak, and Charlie Kaufman to not give me a satisfactory answer to the question- why read if you won't remember?
If we don't remember what we read, what we learn, what is the point of reading, and learning? Last week, speaking to a friend, she tells me how reading is now stressful, because you have to both relish it in the present, and preserve it for the future. I suggested she read Red, White & Royal Blue by Casey McQuiston, an absolute babe of a book filled with romance, comedy, an American election, and a young British prince giving and receiving oral sex, that doesn't lend itself to profundity. So now you don't have to worry about remembering anything for the future, because really, there isn't much here. But the thing is, we can't live our lives only reading and watching romantic comedies. What then?
This question feels more immediate for film reviewers- when you watch a movie, how do you both relish and remember? When I asked critic Baradwaj Rangan this he infuriatingly told me that he just remembers it, the way he remembers poetry from High School. Great! But I don't remember poetry from high school- only how it made me feel. (Love Sarojini Naidu. Love DH Lawrence. Indifferent to Robert Frost. What the fuck was the point of The Daffodils?)
The answer I have internalized, but am not convinced of, is the following - if you are meant to remember it, it will be remembered, and if you are meant to only remember how it made you feel, then that's what you will remember. The problem with this statement is it gives memory too much credit- as if there's a sieve in my brain that filters out the great things that need to be remembered from the ones that don't.
My reply to that would be the following, very depressing statement: People and things are remembered not because they are great, but just because they happen to, by chance, slip through the hands of oblivion and time, and land a spot in the present. It's ridiculous noh? We all harbour intentions to be great and to be remembered, but perhaps we forget that to be remembered we don't need to be great, and to be great, we don't need to be memorable.
The best example of this is Van Gogh himself. The poor man who, in a delirium, sliced his ears off as a jealous gift to a sex-worker his mentor frequented, sold only 1 painting in his entire lifetime, The Red Vineyard At Arles (1888). And in 2015, a college student bought a 2$ recreation of Starry Nights off Amazon to decorate a wall that he felt too un-blue. That was me. WWVGS - What would Van Gogh say?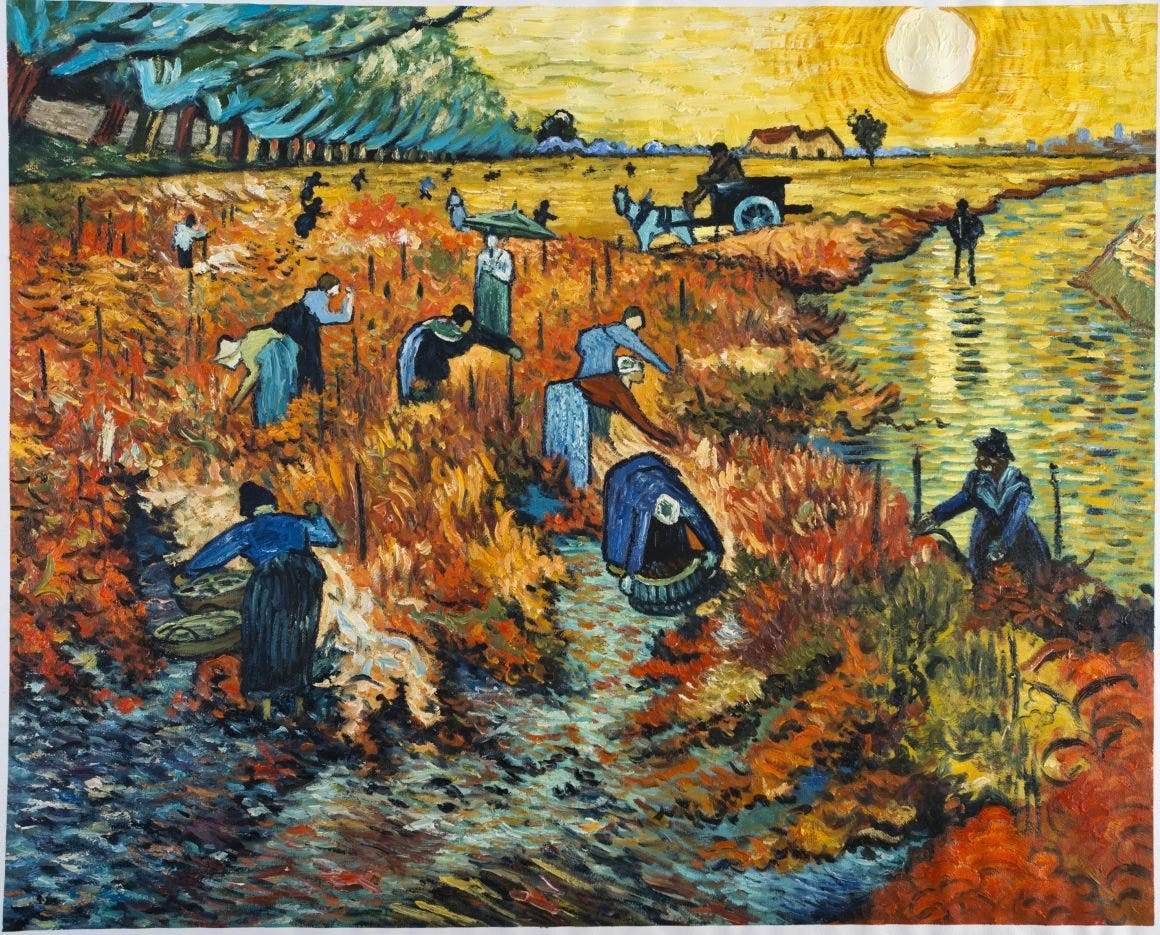 Elif Shafak in her sweet, unsubtle book 10 Minutes 38 Seconds In This Strange World called memory like the trail of a drunken man- no one knows where the next step lies. But one of the cooler quotes from the book is about cows.
You said cows recognize people who have hurt them in the past. Sheep can identify faces as well. But I ask myself what good does it do them to remember so much when they can't change a thing.
In other words, what is the evolutionary purpose of memory?
Of course there are immediate consequences. Like if I drop a bowl (Event) and it shatters (Consequence), I acquire a memory of it such that the Event will always be linked to its Consequence. Because of a memory I have of seeing a dropped bowl shattering, I don't drop bowls again. (David Hume philosophizes this more rigorously, and in one of the most mind-numbing moments of my undergrad when I read how he essentially argues that we cannot come to any conclusions about the unobserved simply on the basis of past experiences i.e. we cannot entertain the possibility, at least philosophically, that every time you throw a bowl, it shatters. The Problem Of Induction- there's a better way to explain this, and you should try it.)
But I am more interested in memory in a broader sense of consciously resurrecting a moment from the past. I turned to Aristotle and Eternal Sunshine Of The Spotless Mind.
Aristotle makes an odd distinction- between memory and recollection.
All animals have memory, though not all recollect. This is because recollection is an act of inference, and inference, like its twin- deliberation- is unique to humans.
Memory, he likens to a stamp, and recollection, I assume by extension of that metaphor, the capacity for the stamp to not fray or dissolve over time. Memory exists in all beings that experience time, thus animals, thus birds, thus, probably, insects.
In a sense then, what my friend was worried about was not memory, but recollection. This helps frame her and my fear better, but beyond that Aristotle is useless.
He looks at recollection as an intellectual pursuit, unlike memorizing, and I can't help but feel like an idiot for not remembering enough. (I do, however, remember that Aristotle comes after Plato who comes after Socrates. Because S-P-A, you're welcome.)
Alexander Pope's poem Eloisa To Abelard from where the phrase "Eternal Sunshine Of The Spotless Mind" comes is a love letter in a tragic love story involving a mathematician. I was introduced to this by my Math professor whose Russian hangover was barely admissable in that 800 student classroom. She told me, in office hours, that in the proofs, the ∃ and ∀ that we use for "there exists" and "for all" comes from Eloise and Abelard, and she told me the story of these two historic lovers.
I order the book that contains their love letters and the Alexander Pope poem from Amazon, but then as I held the book in my hand, I bumped into a close friend on the street, whose birthday it was, and I had forgotten it was her birthday, and I lied that this was her gift and parted ways, telling myself I would buy it again for myself later (I never did).
But look at the tragedy of legacy: this violent story of love, separation, and castration (you read right) in 12th Century France, morphs through centuries to become mathematical symbols used by weeping students, and the title of a film with a beautiful pale woman and a charming pale man. The poor man got his balls cut off for this?
Then, I temper myself. Maybe we should just forget about significance and legacy, and just be a porous glass to contain the intensity of life- in art, in lovers, in friends, in colleagues- and if at the end of it all, anything remains, like dregs of vodka, just hope for it to be tossed back by someone drunk enough to have enjoyed your intensity, and sober enough to have a hazy recollection of it the following morning, "To the angels".